Like most things in life, that depends. Custom homes also have a custom price.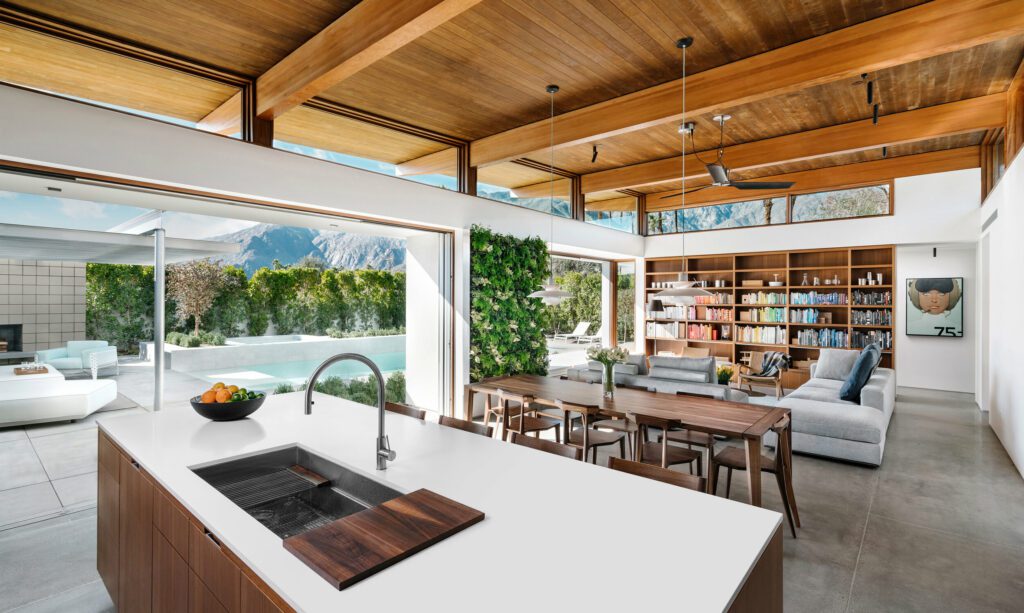 To ensure we are the right fit for you, it's important we set realistic expectations on things like timelines and budget. Talking about money isn't the most pleasant topic, but it's very important you understand the hard costs associated with building a home before you invest your time, effort, and dreams into a project.
With that said… Our years of experience have proven again and again that the combined cost of fabricating one of our designs—and a local builder's work to assemble and finish out your home—will put your starting budget at $1.7 million.
Still with us? Let's break down the costs.
Turkel Design home costs

Consultants and permits
Once you've identified your site, it will need to be surveyed. If your site is especially complex, we may need to call upon outside consultants to perform further assessments, such as soil tests. There will also be costs for building permits, which can vary a great deal, depending on your locality.
Turkel Design services
Next come our design services. You might find that your needs can be met by customizing one of our standard designs. Or you might find that only a completely custom design will work for you. In either case, we will want to walk you through the design process, paying careful attention to every detail. Our fee for those services will equal 10-15% of the total construction costs, as is typical of high-end custom architecture. This will allow us to calculate a firm price for the prefab package we provide, including the cabinetry and casework, and items like exterior cladding, wooden ceiling finishes, and wood flooring.
Turkel Design prefab components and cabinetry
So, what will our prefab package cost you? The price will vary, of course, but you can use per-square-foot costs to make a rough estimate. We have found that the price for materials, engineering, fabrication, and delivery is at least $300 per square foot.
The variation in cost is due to a variety of factors. Our homes vary not just in size but in complexity, and complexity costs money to design, engineer, and fabricate. (Think two 25-foot operable walls of glass on either side of a great room vs. solid walls with some windows.) Then there's the matter of finishes: Treated wood siding costs more than stucco, wooden ceilings more than drywall. You get the picture.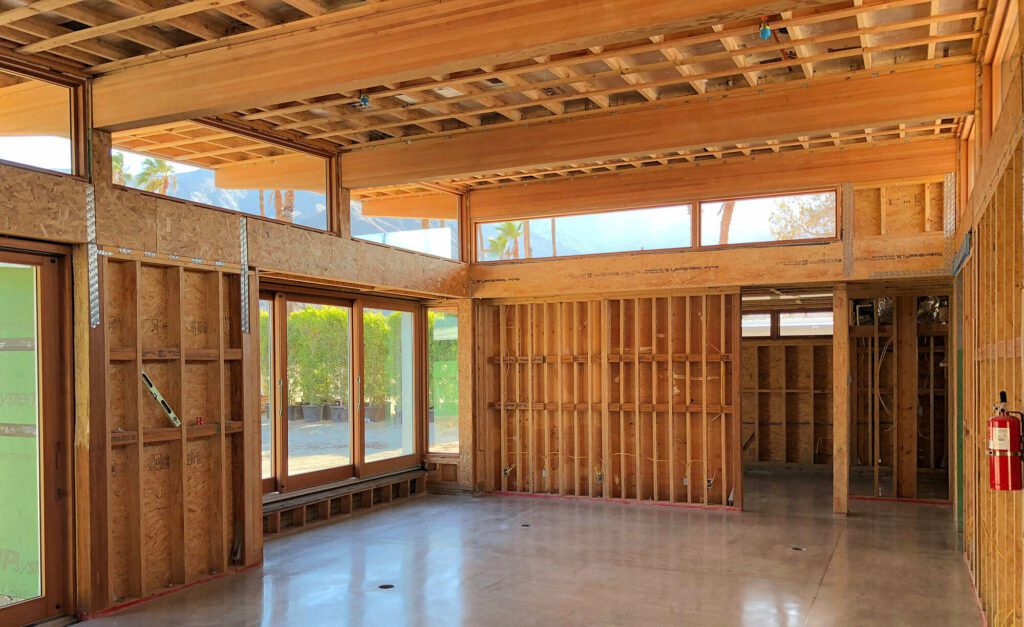 Local builder site prep costs
Using the models and documentation we provide, your local builder will make a detailed bid for the work he or she will do—which will come in two distinct phases. The first phase includes the site work and the house's foundation. You can easily imagine that site work will be more extensive on a hillside, and that a full basement will cost more than a concrete slab.
Local builder fit-out costs
The second phase begins when our prefab package arrives ready for assembly. Once the prefab components are erected on the foundation, your local builder will begin installing the mechanical services, plumbing, wiring and light fixtures, as well as insulation, roofing, drywall, and trim work— everything needed to get the house ready for you to move in.
We've found that contractors will charge at least $300 per square foot to buy supplemental materials and do the work of fitting-out your house. You've doubtless heard that a house that would cost a few hundred thousand in Missouri might cost millions in California. Use your sense of local building costs when making your rough estimate.
But please bear in mind that although the combined price of our manufacturing and the contractor's work will be at least $600 per square foot—in no case will it be less than $1.7 million.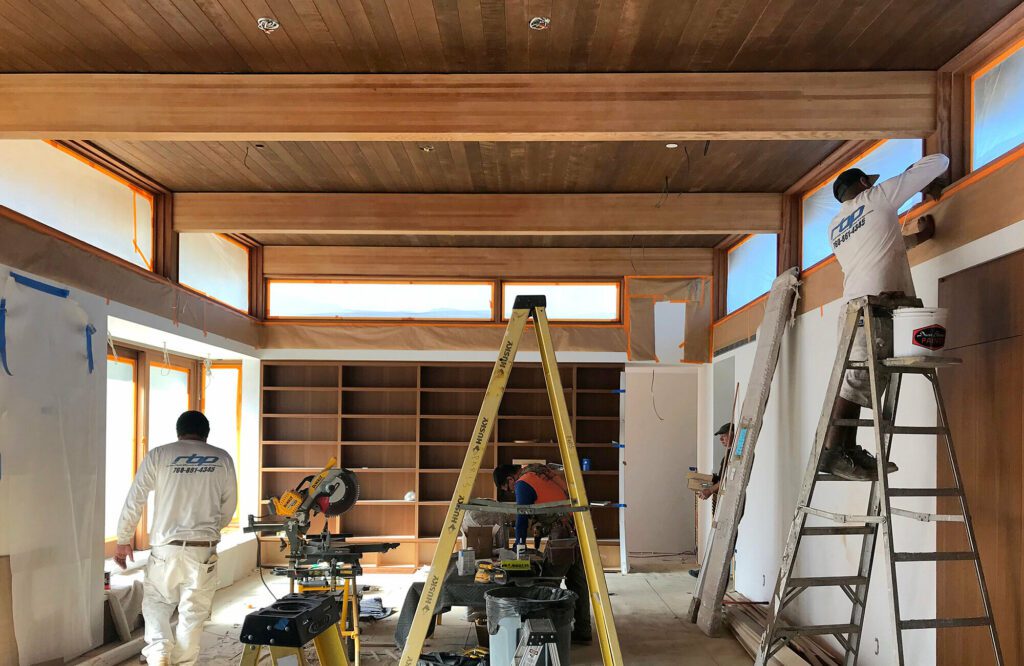 Final landscaping
And lastly, factor into your thinking the extent to which you will want to landscape your property. Will you want terraces cascading down a hillside, or just foundation plantings?
Summing up
All of this is a lot to take in—and necessarily so, given all the factors at play. Our work with you will begin by identifying a budget for your project. We will guide you throughout our process by providing you with the information you need to make the decisions that will keep your house within that budget.
We've done this for dozens of clients. We'd like to do it with you.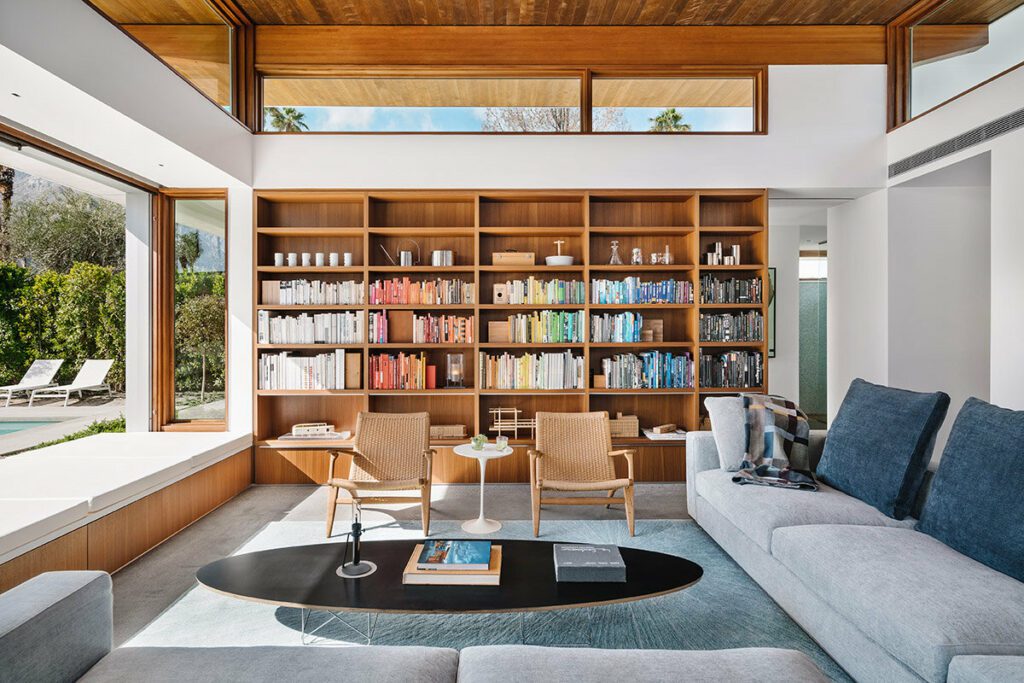 If you have additional questions about how our pricing works, please contact us directly!
Photography: Chase Daniel