This is the first in a series of posts that will illustrate how custom cabinetry makes for beautiful homes that promote better living. Read part two.
Custom cabinetry makes your home fit your lifestyle. Every Turkel Design home is filled with unique details that facilitate how our clients want to work, play, and interact with each other. Each of these details weds elegant design with smart functionality.  
A well-designed house, however, is more than just a collection of inspired moments. Each one must serve a purpose within a cohesive plan. In a Turkel Design home, this can mean identifying planes that extend throughout the house, so that a cabinet in an entry hall stands at the same level as one in the kitchen. Or, it can mean illuminating a space and a wall of cabinetry with a well of natural light from above.
Because a home's cabinetry has a major effect on its aesthetic appeal and character, good casework design also requires a careful selection of materials and finishes.   
A recently completed home in Ontario exemplifies the beauty of the Turkel Design process. Custom walnut casework, made of engineered wood sourced in Canada, creates graceful details throughout the living spaces of the home. 
Sometimes a bench isn't just a bench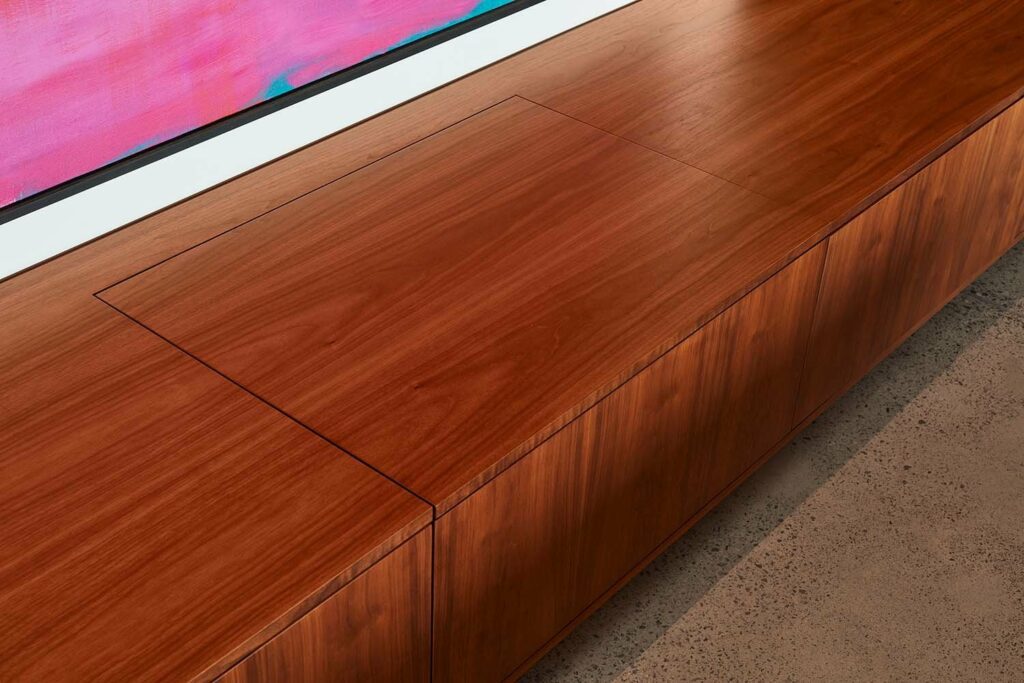 In the Ontario home's great room, this walnut bench provides flexible seating while leaving plenty of room to move through the primary living space. But the economical use of space doesn't stop there—the bench opens to reveal a note of personalization that speaks to the owners' tastes: a hidden LP player. This stylish moment of revelation fits intrinsically into the overall design of the house, which was designed for multi-generational gathering and recreation.
Cocktail hour, at any hour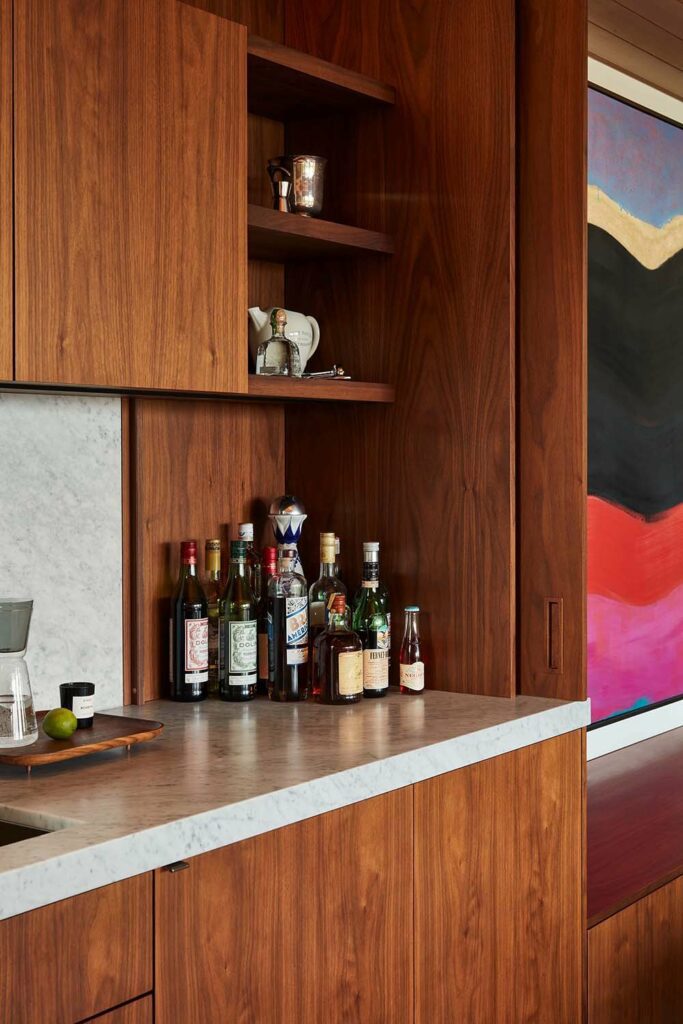 With music, we must have drinks, and just a few feet over from the hidden LP player is another special custom cabinetry moment in this Ontario home. Open this cabinet, and you'll find all the necessary supplies for a well-stocked mixology station. Again, we see how smart cabinetry details serve the functional and aesthetic goals of the home. The beautiful walnut casework found throughout the house gently evokes its Canadian location, and the tall, narrow cabinet is a smart use of space. 
The LP player and mixology station are examples of how Turkel Design works with clients to understand how the design of their home can make life more pleasurable, inspiring, and beautiful.
Their seamless integration into the overall design of the house is a testament to the effectiveness of Turkel's approach. 
Cabinetry, right from the start
Cabinetry is part of every step of Turkel Design's unique process. We have dedicated team members who work closely with our clients to devise beautiful, creative solutions to meet their needs. Using the predictability of panelized prefabrication, we can ensure that the built product is as elegant as the vision. The Turkel Design process is iterative, offering opportunities for the clients to visualize their choice of features, materials, and finishes so that we can make adjustments long the way.
All Turkel Design projects begin with a conversation.
We love to hear from clients about what matters most to them in designing their custom home.
Contact us to discuss how you want to live.