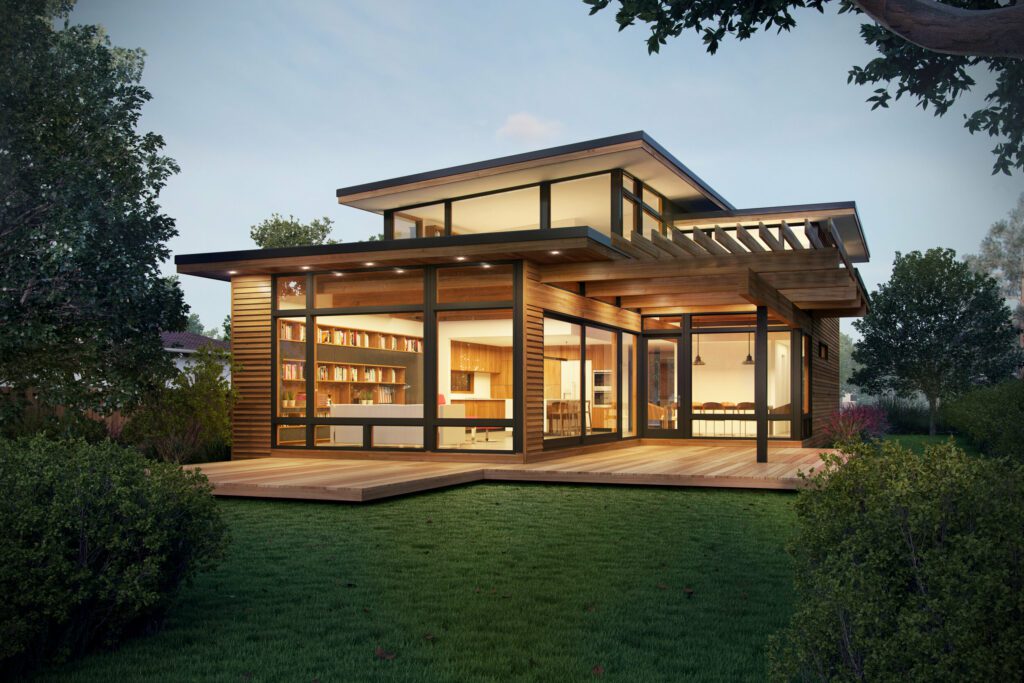 What makes a space an experience? We think it's the emotions evoked.
A home is a place where many activities occur and where different feelings are experienced. Each space can be designed to set the stage for a particular emotion. Let's take the feeling of intimacy, for example…
It's a perfect evening and you are in a familiar restaurant. The room is grand with a high ceiling and soft lighting. Noises are hushed and the tables are generously spaced — each covered with a creamy white tablecloth and lit by an overhead spotlight. You are sitting across from your favorite person (who you haven't seen for ages) and you are eagerly catching up.
Now, which are you more aware of: The grand room? Or the table you two share? If your answer is the bubble of space around the table, then you are experiencing the intimacy of a space within a space.
We think that experiences like these give variety and richness to life, and we design in ways that give you instances of this intimate feeling within the larger spaces of our houses.
The video below shows how the dining area of our Highwood Home can be experienced as a space within a space, just as at the restaurant. Likewise the living area and the kitchen (which feels even more intimate by being tucked under a second-floor loft) each evoke their own unique emotions. Three spaces within spaces, which flow into each other to form a single great room.
But, the Highwood Home design doesn't just give you spaces within a space. It lets you experience layers of space.
In the video below you'll see an orange L-shape that starts with the wall of shelves in the living area, moves through the cabinets in the kitchen, and ends with a credenza next to the dinner table.
Because these different kinds of storage are all housed in similar wooden cabinets, you can imagine them as a continuous band of storage wrapping around two sides of the great room or, in other words, a layer — one that holds and organizes the "things" you need to live your life. And once you've imagined those cabinets as a layer, whenever you grab something you need, you will have the experience of reaching into a layer of space.
On the other side of the great room is another layer of space, in lavender. This time, it's not the layer of cabinets. It's the layer of the space up against the windows. With this layer, you don't reach your hand into it, you walk your body into it. You move from the inward-looking spaces within spaces of the great room into a layer of space that looks outward.
It's a sense of passing through a membrane — from one space with a particular feel to another space with a quite different feel.
Now let's head outdoors. The video below shows the ceiling of the great room extending past the wall of windows into a continuous overhang.
You walk out under it, and you sense you are in another layer of space, in blue, nestled against the window-wall. Have you left the house, or are you still in it? You now realize that the space against the windows felt almost outdoors and the space under the overhang feels almost indoors. The wall containing the sliding-glass doors becomes not the single border between indoors and out, but one of several borders — layers of space — that you pass through, on your way outdoors.
We think that this way of going from indoors to out is a richer experience than simply opening a door in a wall.
And once you've experienced it a few times — both going out and going back in — you will come to feel that the indoor and outdoor spaces really flow into each other. You live in a house that encompasses both indoor and outdoor spaces.
So let's walk out from under the overhang and into the middle of that outdoor terrace. You look up and see the sky through a wooden pergola supported by beams that run straight out from the great room.
You are well and truly outdoors, but you sense that this space, in aqua, is one more in a series of spatial layers that you passed through to get here.
Here is a final video showing how these spaces within spaces and layers of space nestle up against each other. We design all of our houses to foster experiences like these. We think it makes life richer.
Spatial layering is just one of the many design principles we employ to create every Turkel Design home. If you are interested in learning more about our design principles, please take a look at some of our recent posts or contact us to learn more.