This is the second in a series of posts that illustrate how custom cabinetry makes beautiful homes that promote better living. Read part one.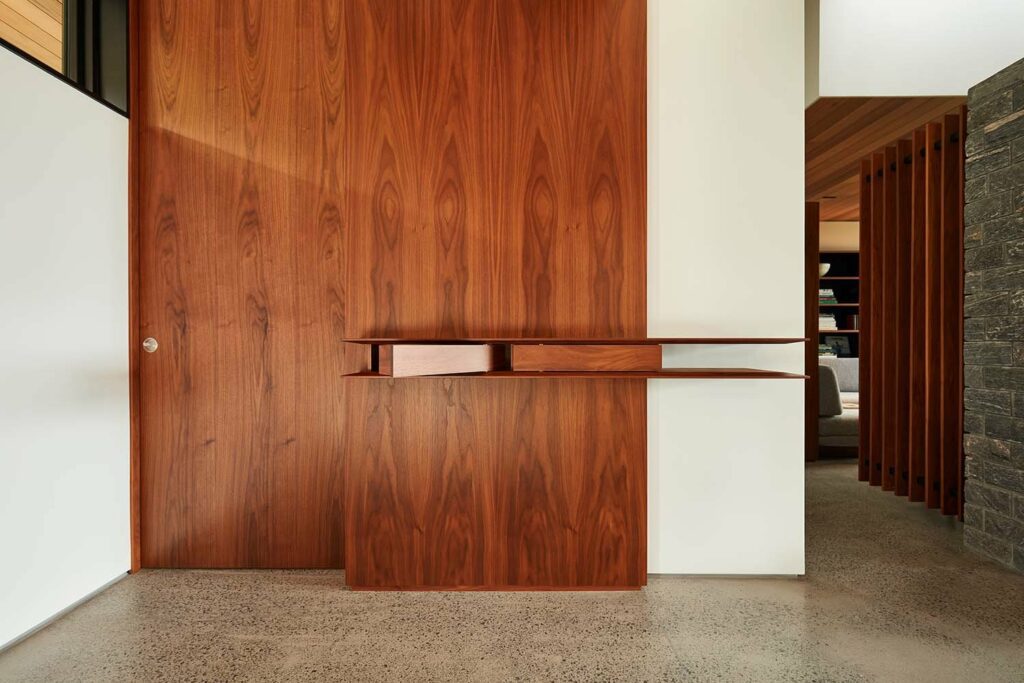 Home is where we relax, recharge, and let go of the outside world. Unfortunately, a typical house is not designed to help its residents escape the pressures of the everyday. A Turkel Design home, however, comprises thousands of design decisions that facilitate this sense of sanctuary.
Turkel Design works with clients to create moments of inspiration in every project we design—moments that improve the time we spend at home. Custom cabinetry, included in the prefab package of every project, is always part of the solution. A recently completed home in rural Ontario shows how ordinary living spaces can turn a home into a sanctuary.
Please turn off all electronic devices
Designed for weekend getaways with family, this home honors the feeling of sanctuary in every aspect of its design, including its special cabinetry moments. As soon as you enter, it invites you to unplug. This sleek shelf in the entryway opens to reveal a hidden cabinet. "Put away your cell phone, and drop your keys," it says. "Welcome home."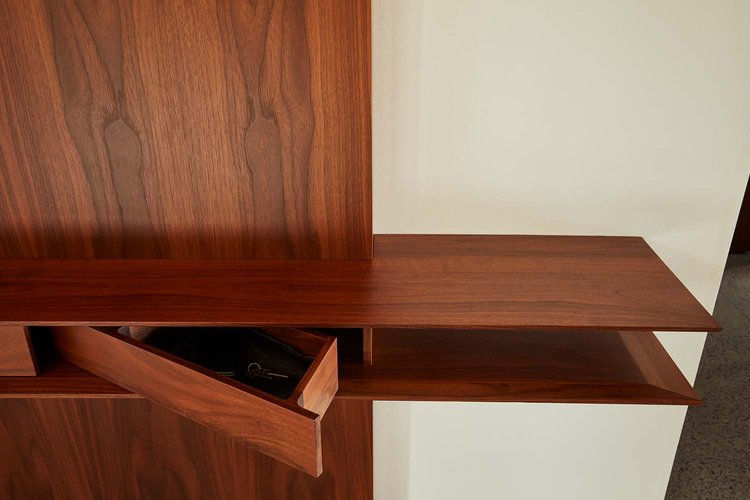 While this home is designed around an open great room, we used custom casework to create moments of privacy throughout. For example, if you really must log on during your weekend respite, there's an elegant slotted screen that creates a private nook separate from the main living space.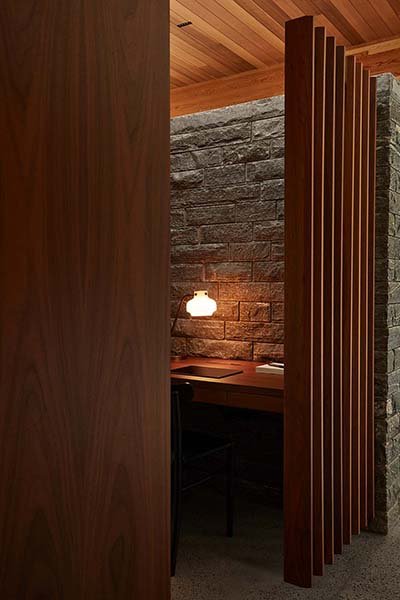 Thinking about cabinetry every step of the way
These details are the result of Turkel Design's unique process of design and construction. We have dedicated team members who work closely with our clients to devise beautiful, creative solutions to meet their needs. Using the predictability of panelized prefabrication, we can ensure that the built product is as elegant as the vision. Our process is iterative—it offers opportunities for clients to visualize their choices of features, materials, and finishes so that we can make adjustments long before those components must be ordered.
The result is a home where you can be confident about all the decisions that were made along the way—a home that truly is your sanctuary.
All Turkel Design projects begin with a conversation.
We love to hear from clients about what matters most to them in designing their custom home.
Contact us to discuss how you want to live.