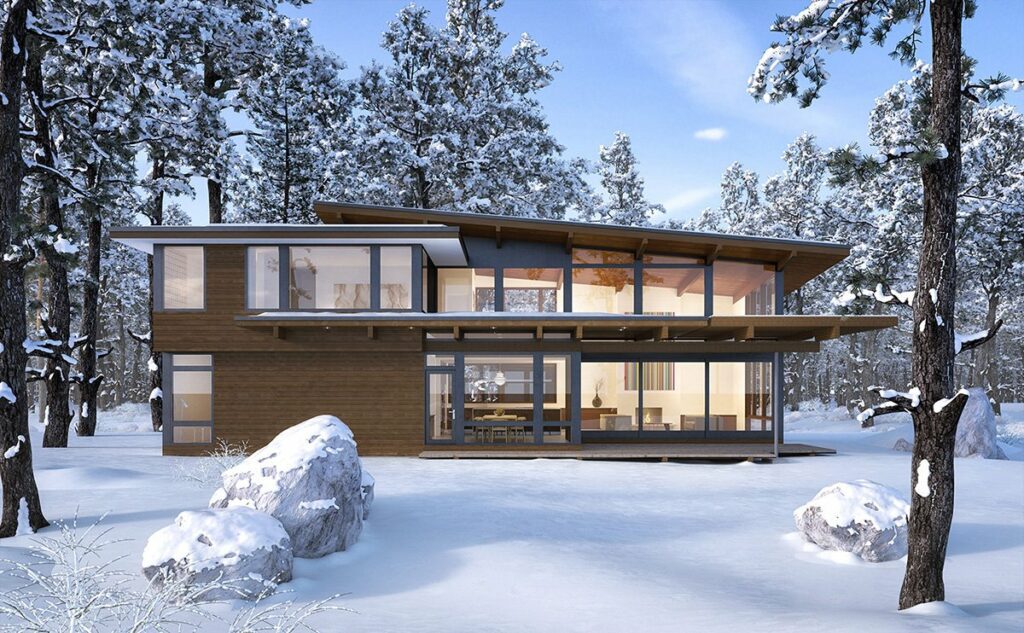 "I love the look of your houses, but our site is out in snow country. Can we build a house with roofs like those on your homes?"
We get this question all the time, and the answer is: Yes, you can build low-sloped roofs and flat roofs in snow country—with proper drainage, careful engineering, and the right materials. The next question is usually:
"But don't you need roofs to be steeply sloped so that the snow will slide off?"
In fact, you don't want to shed the snow but to hold onto it. The Swiss (who know a thing or two about snow) learned long ago that if you let snow accumulate on the roof, it provides a blanket of insulation for the spaces under it.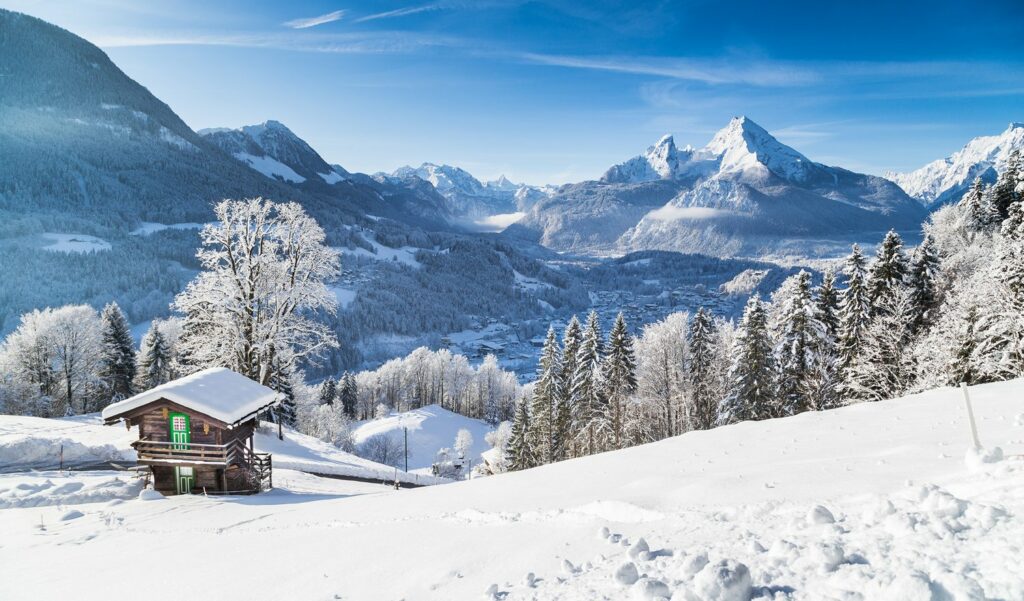 Heavy snow imposes a great deal of weight on a roof, so their solution was the classic "Swiss chalet." This style features two roof planes leaning against each other for strength, built from timbers sawn out of trees, with deep overhangs to keep snow from accumulating against walls.
Today, we can manufacture wooden structural members that are so strong they can span the width of a house, create deep overhangs, and still support a load of snowfall through a long winter. You don't need to recreate a Swiss chalet to build in snow country. Here's how we do it.
Our "flat" roofs aren't flat
Even the seemingly flat roofs of Turkel Design homes have a gentle slope. We begin with a surface as flat as the ceiling below it. Then we apply tapered rigid foam panels, which result in a top surface that tapers downward toward the edges of the roof. Next, we adhere a rubber-like material onto that tapered surface, making a membrane that is completely impervious to water.
The same kind of membrane is applied to our low-slope roofs. These membranes can hold an entire winter of snow without any leaks. When the spring thaw comes, the snow gradually melts, and the meltwater gradually drains off the roof. With these low-sloped roofs, sheets of snow won't slide down unexpectedly.
Our homes are custom-engineered
As you can imagine, all of this retained snow imposes a great weight on the roof structure. And it only gets heavier when early-spring rains soak into the dry winter snow. But these days, the components of a roof structure—its beams and rafters—aren't limited to what can be sawn out of trees.
We use engineered lumber, which is created by taking wood fibers, realigning them for maximum strength, and gluing them together under heat and pressure. By engineering beams and rafters to the necessary size and deploying them with proper spacing, we can span straight across the ceilings of a wide-open space and still support the snow load. Turkel homes are not only custom-designed to suit your lifestyle, but they are engineered to suit the conditions of your site.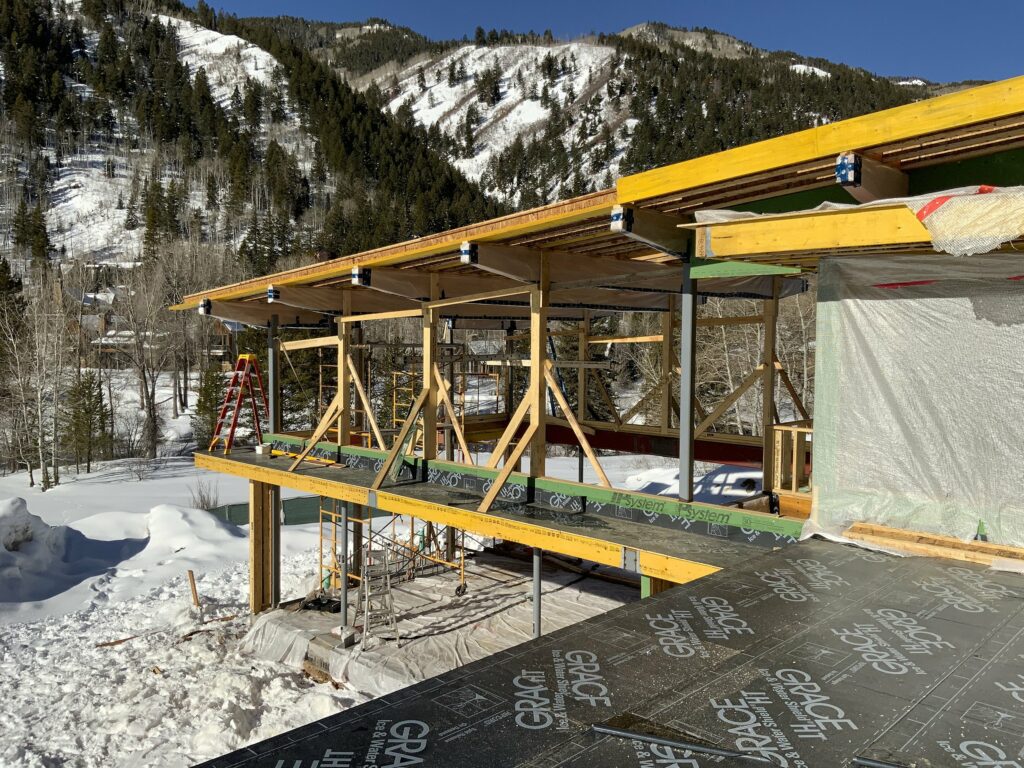 Not your grandparents' winter cabin
Another characteristic distinguishes Turkel Design homes from Swiss chalets: Our houses don't have a single overarching roof. We use multiple roofs to provide shading, create opportunities for outdoor terraces, and deploy windows above mid-level roofs that can stream light deep into a floor plan.
These design elements require careful detailing to accommodate conditions in different climates, particularly in environments with snow accumulation. They also make spaces inspiring. We have a catalog of building materials and details that address these needs. For a closer look at how we approach material selections, read our recent article on selecting the right materials and putting them in the right places.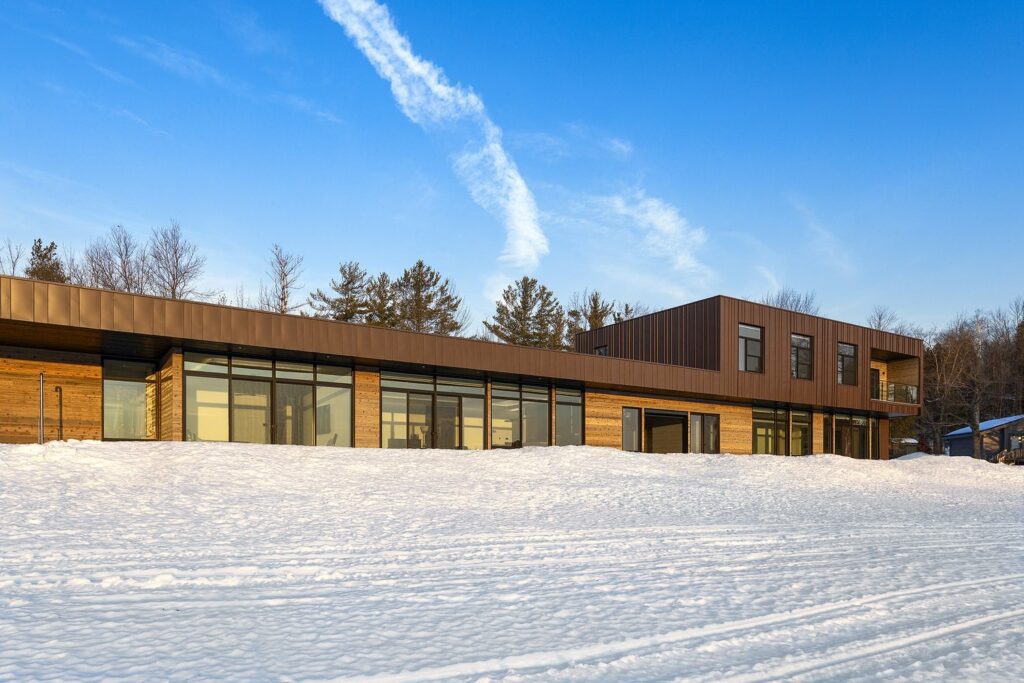 We can build your Turkel Design home in snow country, or just about anywhere.
To learn more, check out these two articles:
Contact us to discuss your ideal home.